Digital Marketing Blog
Marketing Labs gives its thoughts on all things digital marketing.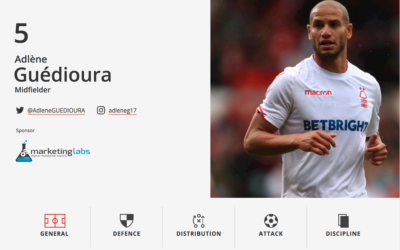 Marketing Labs is delighted to announce that we are now a proud sponsor of: Adlène Guédioura, Midfielder at Nottingham Forest F.C. The chance to sponsor Guédioura came up a few weeks ago and we couldn't let this opportunity pass us by, we keenly let Forest know about...
read more
Wordpress website hacking is a serious subject! Implement these tips to help keep your business's digital assets safe.
You may have heard Digital Marketers or SEO experts like ourselves talking about "metadata" and wondered what it was. So I'm here to explain to you the importance of metadata and hopefully encourage you not to overlook this simple tactic that can indirectly improve...
Follow these 5 golden rules to ensure your blog posts engage your audience and readers every time. Must-read for any copywriter!
With content now at the heart of most digital businesses, creating content that engages with your audience is harder than ever! ☞ Read our 6 top tips to help you write better copy.
All the traffic in the world is no good for you if your website can't convert your visitors into paying customers. Read more about a new web conversion model you need to try!
Are you tired of manual keyword research strategies? Let Ubersuggest ease your pain. Read our 3 step guide to help you find new opportunities.
In mining, gold prospecting involves a sophisticated string of processes. It requires specialised equipment, experience, and a never-ending pool of patience to pull off. When the mining company strikes gold, however, all the time, money, and resources they spent...
From the 25th of May 2018, GDPR (General Data Protection Regulations) come into force. It's kind of a big deal and will impact the way your online business handles its marketing activity.
Read about the SEO topics discussed during our FREE webinar with Dave Chaffey at Smart Insights on Wednesday 30th August 2017 – key webinar takeaways.
Learn how to curate well-written keyword rich product descriptions that will rank in search results. 
Wordpress based websites now dominate over 27% of the entire internet. However, the CMS platform is far from search engine optimised.
Simple SEO mistakes are all too common on the internet. From ridiculous site load times to content duplication and 404 errors, it's time to get the basics right.
Search engines use keywords to determine what a web page is all about. It is therefore vital that every web page you create targets a keyword or set of keywords.
Driving social traffic is more important than ever before. Brands now focus on boosting social traffic and creating viral hits for spreading their word.
Driving traffic to your website is merely just the start of the online customer journey – converting traffic is the end goal.
On-page SEO is still vital. Use these on-page SEO tips to improve organic performance. SEO is one of the more prominent digital marketing techniques you can use in today's busy digital world.
The results of a survey of over 500 eCommerce retailers growth tactics are in… Amazon may capture all the headlines, but small and mid-size businesses still play a significant role in global eCommerce.
Improving your AdWords quality scores can reduce your costs and generate more revenue. As I'm sure you're aware, Google assigns a Quality Score to every single keyword in your AdWords campaign.
Is time management really all that important? There are only so many hours in a working day, and managing your time effectively is the key to success.
A guide showing how to integrate Magento with eBay and Amazon. It's actually really easy. Come & read our simple step-by-step guide & grow your business.
Who doesn't love a good battle? In this post, we'll share our thoughts on who would win in a fight – Shopify Vs WooCommerce.
Video significantly increases engagement and sharing on Social Media, in fact posts with video embedded have the most organic reach of any type of Facebook Post.
Can offline branding and SEO work hand-in-hand? The internet is now such an overwhelmingly powerful part of successful commerce, but whatever happened to offline branding?
Conversion rate optimisation is sometimes really simple. Everyone has heard of the 80:20 rule, but we have gone one better with the 10:1 principle. Read on to find out more…