If the latest social media platform from Meta hasn't come across your desk yet, where have you been? Threads attracted 100 million users within its first five days, and it looks set to keep growing.
It's certainly set the cat among the pigeons in social media circles (we're talking specifically about Twitter and Elon Musk, of course!). So what's the fuss about? What is Threads, and more importantly, should you be on it?
Before you run off and set up an account, take a few minutes to get up to speed on this new social platform with our quick guide to Threads.
What is Threads?
Threads is a text-based social platform created by the team behind Instagram. The two platforms are owned by Meta (Mark Zuckerberg's empire), and you can sign in to both using the same log-in details.
It shares many of the same characteristics as earlier versions of Twitter, including the 500-word character limit. You can follow and connect with people who share your interests, but you'll also see 'recommended content' from creators that it thinks might interest you.
Threads aims to 'focus on light subjects such as sport, music, fashion, and design', free of the heavy political content that has contributed to Twitter's downfall (enter Donald Trump stage left).
What you need to know before you start
There's no getting away from the fact that Threads is a lot like Twitter – a micro-blogging platform with a strict character limit. Posts can include links, photos, and videos up to five minutes long.
Here are a few things to know before you start.
It's a mobile-only app; there are no plans for a desktop version right now.
You can't edit your posts, so if you notice a mistake after hitting publish, you'll have to live with it or delete the whole thing and start again.
The search function is limited to looking for accounts only.
You can use hashtags in your posts, but they're not clickable or searchable. (This will make it harder to follow real-time events.)
You can share Threads posts directly to Instagram or via a link on other platforms.
There is no direct messaging function.
To sign-up to Threads, you need to have an Instragram account. This might seem like an aggressive tactic from Meta, but it does mean you aren't building an audience from scratch.
Your Instagram followers will be asked if they want to follow you when they sign into Threads for the first time. Assuming they say yes, you've got an audience ready and waiting for you!
Of course, all of these things are subject to change. As the platform grows, new features will be added and old ones amended.
What does this mean for advertisers?
There are no plans right now to monetise Threads. According to Mark Zuckerberg, this won't happen until they've got a clear path to one billion users.
It's unlikely that Threads will remain ad-free in the long term, but for now, it's solely the domain of non-paid content.
So, what does this mean for you? Forget about paid ads and concentrate on expanding your following and building engagement with your audience organically.
It pays to create a social media strategy before you start, so set some goals. You'll only know if you've been successful if you can say what you set out to achieve in the first place.
Do you need to be on Threads?
Threads is not suitable for everyone.
Before you rush to set up an account, ask yourself: is my audience on there? If your prospects, stakeholders, and staff are not hanging out on Threads, investing your time on the platform is unlikely to pay off.
It may be free to use, but it takes considerable time to plan, write, and schedule posts, which is why some businesses pay a social media marketing agency to do the work for them.
Our CEO, Matt Janaway, asked his LinkedIn followers what they thought about Threads. Only 6% said they love it, while 56% said it's not for them, and 39% said they were waiting to see how it pans out.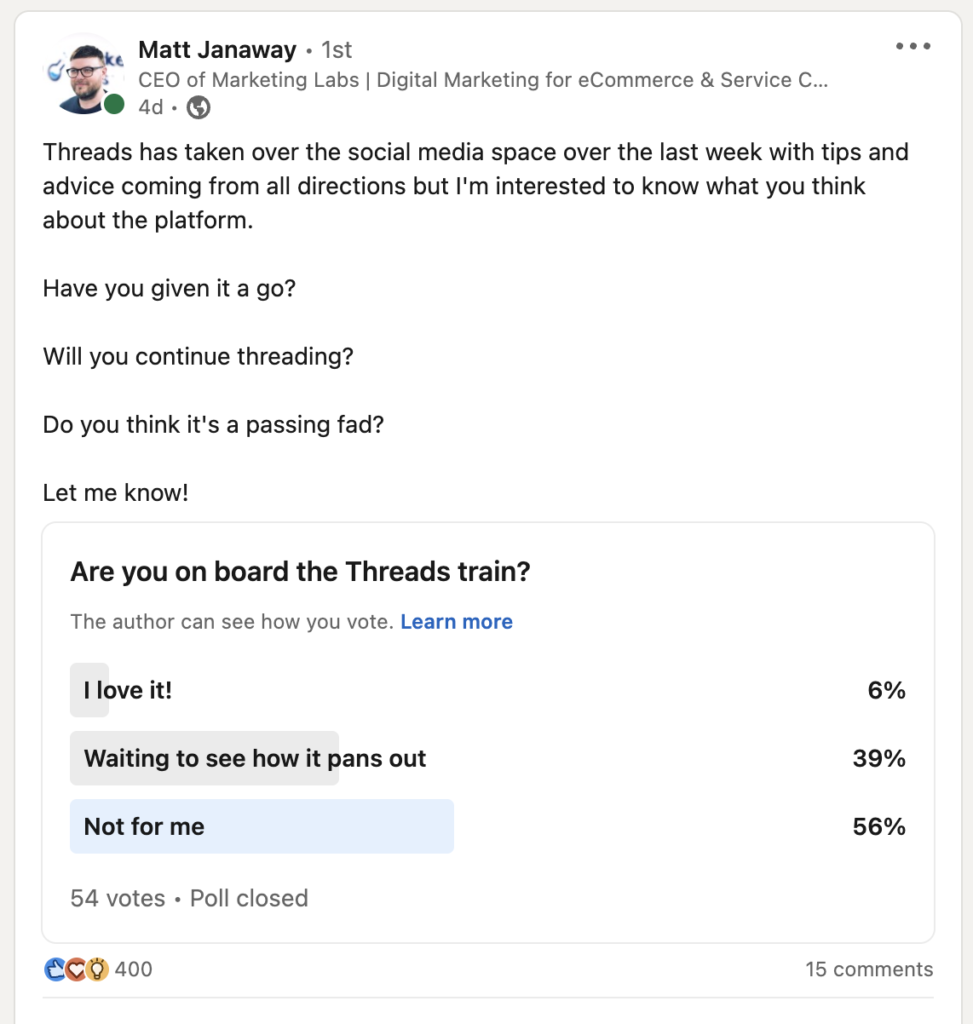 Picture credit: Matt Janaway
"Despite the impressive surge in early adoption that Threads by Meta is experiencing, it's apparent that not every social media user is ready to jump on board this new platform," said Matt.
"Businesses and individuals should verify that their specific audience is actively engaging on Threads before allocating significant resources or efforts there.
This way, they can ensure they are investing their time and energy where it will have the most impact."
Could this genuinely topple Twitter?
Threads is doing well – so well that it attracted 100 million users in its first five days – but is it really a threat to Twitter?
According to Adam Mosseri, head of Instagram, Threads is not intended to replace Twitter. It's a friendlier version that 'exists to give creators a positive space to share content and express ideas'.
But that hasn't stopped Twitter from taking some pretty drastic action in retaliation. At the time of writing this blog post, Elon Musk is threatening to sue Meta over the 'copycat app'.
This isn't the first time another platform has taken on Twitter. From GETTR and Truth Social to Bluesky and Mastodon, none have succeeded in toppling the social media giant just yet (despite Trump's best efforts).
Even without the threat from these rivals, Twitter is struggling under the ownership of Musk. His unpopular policies have lost him a significant amount of ad revenue and may have created the perfect environment for Meta to swoop in and take Twitter's crown.
A final word on Threads
There has been a great deal of chatter online and in the media about Threads since its launch in early July. In reality, though, there's not much to know about this platform.
If you've already got Instagram, you've also got a Threads account, so go and take a look around. Like most good social media platforms, it's pretty intuitive, and the best way to learn is by doing.
Before investing time, though, ensure your audience is on there. If your target group doesn't hang out on Threads, it's unlikely to pay off for you long-term.
Meta is still developing its latest offering, and we're expecting big things from this new platform in the future, so watch this space because Mark Zuckerberg hasn't finished yet!